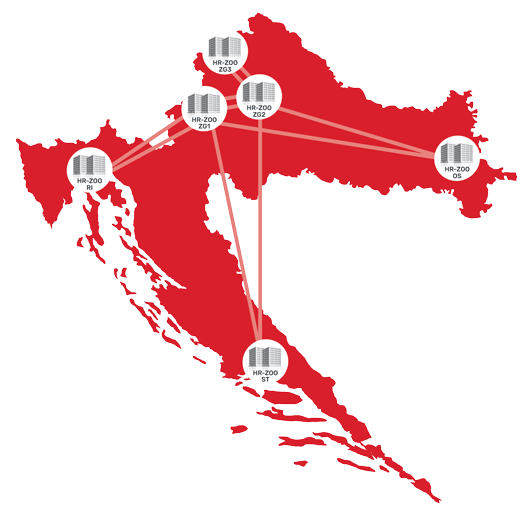 SRCE run six geographically distributed data centers, three of which are located in Zagreb (HR-ZOO ZG1, HR-ZOO ZG2, Srce ZG3) and one each in Split, Osijek and Rijeka (HR-ZOO ST, HR-ZOO OS) and HR-ZOO RI).
As part of the housing service of ICT equipment in data centers, SRCE provides space for the accommodation of computer and communication equipment (ICT equipment) according to modern standards and complete management of data centers. SRCE experts in cooperation with partners design, build and maintain all the necessary systems of air conditioning, power supply, security and environmental monitoring, fire alarm, fire extinguishing and others so that the computer and communication resources located in them are adopted according to the standards of the profession.
Physical and technical monitoring of adopted equipment is actively carried out, immediate physical assistance is provided for adopted equipment, and access is ensured to persons authorized by the user of the service.
More than 1,600 measurement points, active elements of the physical infrastructure, monitoring, sensory and detection elements have been installed in the data centers.
1,9
MW total planned power
680 m
m2 total area for housing equipment